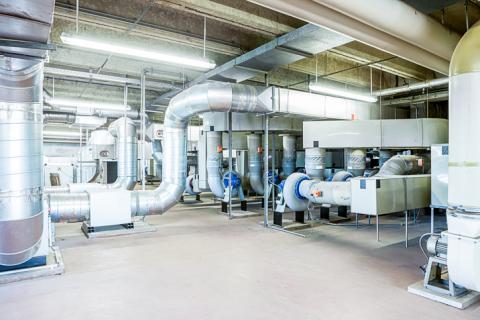 Owning a building can be overwhelming, especially when it comes to keeping up with maintenance and required mechanical updates. Macomb Mechanical makes building management easy by supplying you with high-quality, comprehensive services that cover a range of systems and equipment. Whether you need custom pipe designs or a new A/C unit, Macomb Mechanical has the skills needed to ensure that your systems are up to code and functioning at superior performance.
As a trusted Michigan mechanical contractor, we offer plumbing, pipe fitting, fire suppression, and HVAC services and installations to commercial and residential clients alike. With over 50 years of experience, our team has is fully trained to handle your job, all while delivering unmatched service and superior results.
We work with each of our clients to ensure the continual safety and comfort of all employees and guests on their properties. As a mechanical contractor managing critical mechanical, plumbing, and fire protection systems throughout your facilities, our company also understands the importance of high ethical standards.
Full Service Mechanical Contractor
As your full service mechanical contractor, it is our goal to place a technician at your location with the right experience and skill set to handle the demands of every system at your facility. When we say full service, we mean it! Our wide-ranging experience with HVAC, plumbing, fire systems, and more leaves us well equipped to handle any mechanical contracting services you require. We are your one stop shop for high-quality, full service mechanical contracting.
Our full service mechanical contractor staff and field support team includes industry veterans whom have experience spanning decades. We understand that Michigan encompasses a wide variety of facility designs that incorporate mechanical and plumbing systems of every type.
Planned Maintenance & Systems Inspections
To provide our customers with peace of mind, we offer maintenance plans and systems inspections as a proactive approach. Our planned maintenance programs are focused on preventing expensive breakdowns while ensuring your systems continue to operate smoothly and efficiently. Our systems inspections include an assortment of tests and examinations to ensure everything within your facility is well-maintained and running properly.
At Macomb Mechanical, we are committed to delivering excellence, no matter the job. Call or contact us today to schedule your appointment!