The Michigan Plumbing and Mechanical Contractors Association recently presented its 2016 Contractor of the Year Award to Scott Johnson, president of Macomb Mechanical. This annual award is given to the contractor who maintains the values of the association and aspires to excellence. In giving the award, the MPMCA had to say the following regarding Macomb Mechanical:
"Over the past four decades Detroit has grown and changed in many ways. Back in 1970, three men drafted a plan to work together and founded Macomb Mechanical Company. The main focus of their business was to provide plumbing services to Schools, Churches and Manufacturing facilities located in Southeastern Michigan. Since the beginning, more than 45 years ago, Macomb Mechanical has been a partner with MPMCA and has supported the contractors association in every way possible.
Today, you will find Macomb Mechanical as a community of talented and dedicated men and women who are inspired by a mission that strives for a standard of excellence. Using ethical values as a guide, they examine new ways to continually improve upon the delivery of services they provide, embracing the responsibility to train the next generation of technicians and leaders.
The current leadership finds all three brothers at the helm of Macomb Mechanical. Scott, John and Gary Johnson utilizing the teachings of their father Gary Sr, and taking great pride in the long history of ethical leadership. They believe that for generations their clients, employees and the larger community have been able to count on Macomb Mechanical and consider thoughtfully the implications and context of the decisions they make.
For Macomb Mechanical, growth has taken many forms over the past decade. Beginning with moving the operations and headquarters in 2007 from their Fraser Michigan location, to a newly remodeled 22,000 state of the art facility located in Sterling Heights. The new facility has provided for improved warehousing, sheet metal fabrication, certified welding operations, and pipe fabrication in a climate controlled environment.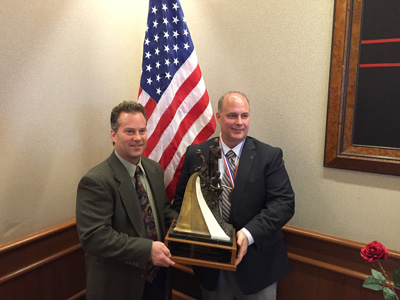 Since 2009, Macomb Mechanical has merged, purchased and partnered its' way to what it is today. They are now a full service Plumbing, Piping, HVAC, and Fire Protection company offering all aspects of each division from design build installation through service.
In further recognition of their humble commitment to the Detroit community at large, Macomb Mechanical recently stepped up when a resident in need approached MCA Detroit asking for help. MCA Detroit received a call from an individual who was living with her 92 year old father in a home whose boiler had broken down with the strain of the subzero temperatures. She had applied to other sources for assistance, but since her monthly payments were all current, she didn't qualify for financial aid and didn't have the resources to purchase a new heating system. Macomb Mechanical agreed to respond and diagnose the problem and realized the boiler system and piping were in need of replacement, not just repair. They coordinated with MCA Detroit and this fortunate Detroit resident received a new system thru Macomb Mechanical at no charge!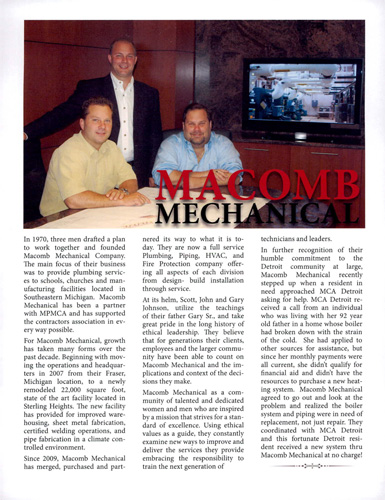 We believe that when it comes to choosing a contractor that best describes what MCA stands for, Macomb Mechanical exemplifies how to operate and grow a successful contracting business. It is clear that they support our industry with passion and commitment that is rarely found in todays profit hungry environment.
The infrastructure and culture found at Macomb Mechanical should be used as an example to our members. For this reason, we would like to nominate Macomb Mechanical as a deserving candidate for MPMCA's 2016 - Contractor of the Year award."